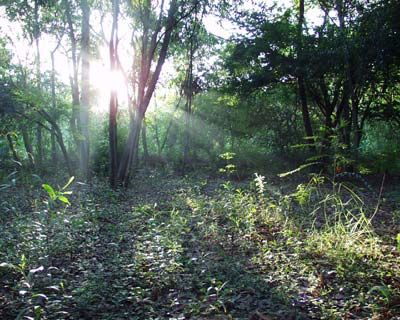 Forest Restoration in the Auroville Township; Credit: Auroville Botanical Gardens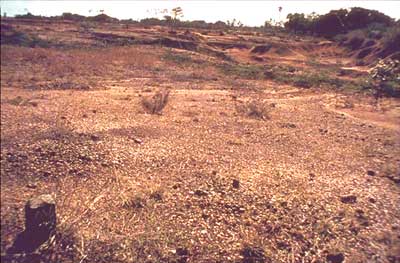 Forest Restoration in the Auroville Township; Credit: Auroville Botanical Gardens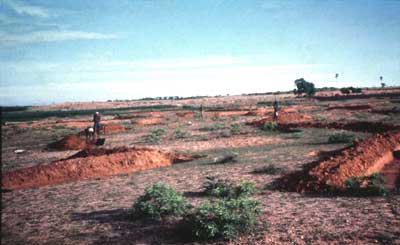 Forest Restoration in the Auroville Township; Credit: Auroville Botanical Gardens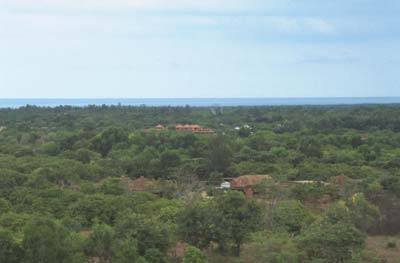 Forest Restoration in the Auroville Township; Credit: Auroville Botanical Gardens
Overview
In the late 1960s, the Auroville Township was founded as an intentional community in the state of Tamil Nadu in southern India. Upon their arrival, the township's first residents found a severely degraded forest ecosystem that had become a barren plain largely devoid of shade and water. In the absence of vegetation, erosion from monsoon rains was a serious threat, as it had already washed away much of the topsoil. Thus, beginning in the early 1970s, Aurovilian "greenworkers" (as they came to be known) undertook a concerted effort to replant trees and construct catchment systems to trap rainwater. Initially intended as a means of improving living conditions at the Auroville Township site and the immediate vicinity, the success of the ongoing reforestation project has since gained local and national attention, and is raising awareness about the importance of rehabilitating and conserving valuable forest resources in India. Representatives from Auroville have now begun to network with other organizations in order to share their knowledge and ensure that the lessons learned at Auroville will serve as a model for the restoration of other degraded areas throughout the country.
Quick Facts
Project Location:
12.0052821, 79.8128649
Geographic Region:
Asia
Country or Territory:
India
Biome:
Tropical Forest
Ecosystem:
Tropical Forest - Moist Broadleaf
Area being restored:
2,200 acres
Project Lead:
The Auroville Township
Organization Type:
Community Group
Location
Project Stage:
Implementation
Start Date:
1970-07-20
End Date:
1970-07-20
Primary Causes of Degradation
Agriculture & Livestock
,
Deforestation
,
Fragmentation
,
Mining & Resource Extraction
Degradation Description
Around two hundred years ago, the Auroville plateau and its surrounding region were covered in forest. In fact, a stone was discovered in Kilianur dating from 1750 that described the local king hunting for elephants and tigers in the nearby forest. In 1825, trees were felled in the Jipmer area between Auroville and Pondy, to drive away the tigers. Slowly the forests were cut down to build cities like Pondicherry and towns like Kalapet. Timber was used for export, and the British accelerated the deforestation process by allocating plots of land to anyone who would clear it and cultivate it for a year. Much of the land was then left fallow, and under the violent onslaught of the monsoon, erosion inevitably began. The last remaining plots of forest in the Auroville area – 2,000 mature neem trees – were cut down in the mid-1950s for timber to make boats. In less than 200 years, land that was once forested had turned into an expanse of baked red earth scarred with gullies and ravines carved by the monsoon floods. Each year tons of the remaining topsoil were swept into the nearby Bay of Bengal, and much of the land that remained became a desertified wasteland. By the end of the colonial period the extent of the forest was reduced to 1% of its normal distribution, and in subsequent times all of these reserve forests have become highly degraded. The timber trees of any size were removed, and then the remaining scrub was harvested for firewood and subjected to constant browsing by goats and cows. The only surviving forest areas that have any resemblance to their pristine state are widely scattered pockets around temples, and these rarely exceed a few acres.
Reference Ecosystem Description
The TDEF ecosystem has a canopy rarely higher than 8m tall, with trees interlinked by lianas. The forest floor has a thick layer of leaf matter that is efficiently recycled by a dense mass of feeder roots in the top centimeter of the soil. Some of the common species of the forest include: Atalantia monophylla, Diospyros ebenum, Drypetes sepiaria, Garcinia spicata, Glycosmis mauritiana, Ixora pavetta, Lepisanthes tetraphylla, Manilkara hexandra, Memecylon umbellatum, Pterospermum suberifolium, and Syzygium cumini. Other important components of the ecosystem include liana such as Combretum ovalifolium and Capparis zeylanica, and both epiphytic (e.g. Vandia tesselata) and pseudobulbous (e.g. Eulophia epidendraea) orchids.
Project Goals
To restore the tropical dry evergreen forest around the Auroville Township in southern India
Monitoring
The project does not have a monitoring plan.
Description of Project Activities:
Initial restoration activities by the first Aurovillian settlers were largely aimed at creating shade and eliminating runoff of rainwater from the plateau. Activities included the planting of both exotic pioneer species, such as Acacia auriculiformis, Cassia siamea, Eucalyptus sp., and Khaya senagalensis, and native pioneer species including Azidiracta indica, Bridelia retusa, Lannea coromandelica, Morinda pubescens, and Pterocarpus santalinus. The non-native species were largely more successful and became well-established. Other initial activities included water and soil conservation work, including the establishment of bunding grids (raised banks of earth following contours or field boundaries) designed to contain rainwater. Check-dams and gully plugs were constructed in ravines to catch any remaining runoff, and existing catchment ponds were de-silted and enlarged. These measures helped to stop the erosion previously caused by water movement and, as the vegetation grew, helped Auroville to achieve its goal of "˜zero run-off'. By the early 1990s the next stage of the restoration work was taking shape. A group of Aurovillians studied the botany of local plants and surveyed the remnants of the indigenous flora, primarily in reserved forests and temple groves. Plants were identified, seeds collected, and germination techniques determined, gradually establishing a database for some 300 native woody plant species. A herbarium containing documents and specimen sheets on the flora was established, as were plant nurseries containing tens of thousands of trees, shrubs, and lianas for planting out in the forests on an annual basis. Many of these species, some extremely rare, are now well established in the Auroville greenbelt, and some have begun to produce seeds.
Ecological Outcomes Achieved
Eliminate existing threats to the ecosystem:
By the 1980s a marked difference could be seen in the ecology of the area. A canopy of pioneer species had been established, creating shade and providing the necessary environmental conditions for the re-establishment of various indigenous plants. As the forests have grown and native flora has returned, native fauna has also begun returning to the area. The number of bird species has increased from approximately 30 to more than 90. Species of butterflies, moths, and other insects have taken advantage of the increased diversity of plant food sources, and their diversity has also increased. Many species of reptiles are present, including monitor lizards, chameleons, starbacked turtles, and star tortoises. Furthermore, up to 19 species of snakes are now considered common, including the indian spectacled cobra and Russell's viper. Mammals whose populations have increased include the mongoose (Herpestes edwarsi), black-naped hare (Lepus nigricollis), and civet cat (Viverricula indica), and porcupine (Hystrix indica) have also been sighted. The forests of Auroville now cover over 2000 acres, and each year around 50,000 more seedlings find a nook or cranny to call home. Survival rates for these seedlings are good, now that the environment has been improved by the initial plantings.
Socio-Economic & Community Outcomes Achieved
Economic vitality and local livelihoods:
Slowly, villagers are beginning to assimilate the impact of Auroville's action and to draw their own conclusions. Raised earth grids are appearing around their fields along with checkdams in the canyons that threaten them. Trees are now replacing some field crops. In response, Auroville provides whatever support and assistance it can in the form of training programs, techniques, seedlings, and even joint proposals for funds to restore the balance of this piece of earth we share.
Long-Term Management
Some of the reforested areas are designated as sanctuaries, while others are managed as mixed forests that in the long term will produce sustainable supplies of timber for the developing township. All of the forests are managed with a view to biodiversity conservation and wildlife protection. At present, a project to develop a system of shared forest management with the villages that are proximal to the remnant forests is being developed with the help of the European Commission.
Sources and Amounts of Funding
Auroville's afforestation campaign began in the early 1970's. The first tree nurseries were started in Success and Kottakarai, and tree planting began with the help of grants from the Point Foundation, the Tamil Fund and friends abroad. In 1982, impressed by the success of the afforestation project, the Government of India's Department of Environment offered Auroville 11 lakhs of rupees (then around US $100,000) over five years to plant trees and scientifically monitor the results so that the most appropriate techniques and species could be identified and later applied in other parts of India.
Other Resources
Auroville
http://www.auroville.org/
Paul Blanchflower
Auroville Botanical Gardens
Auroville
605 101
Tamil Nadu
India
Email: botanical@auroville.org.in
Primary Contact
Organizational Contact