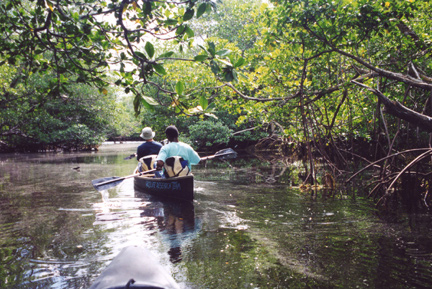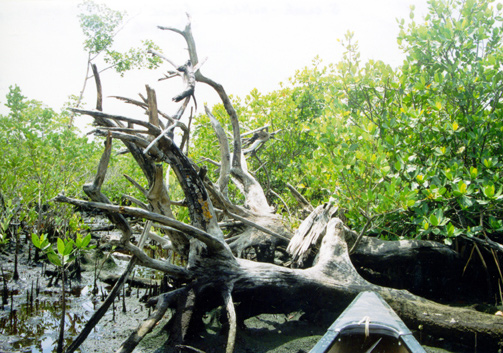 Overview
This project aims to clear dead trees and debris deposited by Hurricane Andrew in 1992 from mangrove tidal passageways in Matheson Hammock Park on Biscayne Bay. Once tidal flow is restored, the mangrove forest will serve again as a vital nursery and foraging ground for young fish and many species of invertebrates. In an effort to prevent further damage to this sensitive habitat, the debris will be removed by volunteers using canoes and manual labor instead of large machinery. Replanting of red mangroves and endangered sea grasses is another of the project's intended activities, but the first priority is clearing the blocked channels and restoring hydrologic processes.
Quick Facts
Project Location:
Matheson Hammock Park, Old Cutler Road, Coral Gables, FL, USA, 25.6792277, -80.25660249999999
Geographic Region:
North America
Country or Territory:
United States of America
Biome:
Coastal/Marine
Ecosystem:
Estuaries, Marshes & Mangroves
Area being restored:
27.5 acres
Project Lead:
Wildlife Research Team
Organization Type:
NGO / Nonprofit Organization
Location
Project Stage:
Implementation
Start Date:
2001-10-24
End Date:
2001-10-24
Primary Causes of Degradation
Urbanization, Transportation & Industry
Degradation Description
Pressure from urbanization, loss of natural water flow, and pollution were just some of the critical problems already faced by this habitat, when in August 1992 Hurricane Andrew struck its shores with full force, flattening the entire mangrove forest and choking all tidal creeks with fallen trees and other storm debris. The cleansing effects of natural tidal flow became restricted to the point of stagnation in most areas.
Reference Ecosystem Description
Prior to Hurricane Andrew in 1992, the mangrove wetlands contained within the park served as high-volume feeding, breeding, and spawning habitat for anadromous fish, baitfish, and marine reptiles (i.e. sea turtles). The park's tidal creeks were also one of the nation's largest migration habitats of horseshoe crabs (Limulus polyphemus). Wading birds use this habitat to roost, and migratory birds use it as a stopover. Manatees find this area comfortable in storm weather and summer retreat, and saltwater crocodiles have also been spotted in the mangrove-lined tidal creeks.
Project Goals
Wildlife Research Team's five-year goal for Matheson Hammock's mangrove ecosystem is to unclog the tidal creeks and remove debris from cross corridors, thereby restoring this unique and historic Preserve back to a balanced and healthy estuarine habitat that will nurture countless fish, invertebrates, birds, mammals, and endangered creatures seeking safe harbor such as sea turtles, manatees, and even saltwater crocodiles.
Monitoring
The project does not have a monitoring plan.
Stakeholders
Matheson Hammock Park, on the northern boundary of the Preserve, is enjoyed by thousands of people every year for swimming, wading, fishing, kayaking, canoeing, sunbathing, jogging, bicycling, birdwatching, and just enjoying nature.
Description of Project Activities:
In most places, this habitat is impregnable to powered craft due to shallow water, twisted broken flora, deposits of trash, and accumulated debris from Hurricane Andrew and subsequent storms. High tides enable passage over some submerged debris, but trees fallen over the waterways easily entangle explorers. Therefore, WRT volunteers must rely on canoes for the restoration effort. Canoes have been found advantageous, though, as they afford a non-polluting, unobtrusive means of approaching clogged channels and evaluating the condition of the ecosystem without causing further damage. WRT volunteers use their canoes to carefully remove dead and decaying flora from the channels. This removal includes remains of large red and black mangrove trees, found both above and below the surface of the water, as well as invasive species such as Australian pine. While some areas can be reached and cleared during low tide, others can only be accessed during high tide. Whichever the case, when tidal conditions permit entry into the site, each obstruction is evaluated and then removed by hand. The channels are first cleared of debris and then, log by log, the accumulated debris along the edges of the corridor is paddled out to a pickup area.
Ecological Outcomes Achieved
Eliminate existing threats to the ecosystem:
By March 2002, one corridor from east to west had been completely cleared of debris, thus restoring tidal flow. Since tidal flow has been restored, black mullet, fantail mullet, and a variety of snapper have been observed in the corridor. On March 3, 2002, a saltwater crocodile was also observed feeding in the same area. By December 2002, a separate loop corridor and several smaller corridors had also been cleared for a total of 3.9 miles of fish corridors. As of April 2003, a total of approximately 27.5 acres had been restored. In all of these cleared channels, there has been an improvement in water quality and clarity, increased tidal flush, and enhanced foliage growth. There are also significant numbers of fish where there was once only stagnation.
Socio-Economic & Community Outcomes Achieved
Key Lessons Learned
The canoe is uniquely suited to restoration projects as this vessel causes no pollution, and no damage to low water flora or fish. Fieldwork by Wildlife Research Team has proven that canoes are noiseless and are a superb base of noninvasive operations, observations, and monitoring. Canoes can be used for every task–a fulcrum to break free submerged obstructions, a workbase, a floating dock, a trash hauler.
Sources and Amounts of Funding
469,975 USD FishAmerica Foundation; NOAA's Community Restoration Program (CRP)
Other Resources
Audra Livergood
Habitat Restoration Specialist
National Oceanic & Atmospheric Association (NOAA)
Email: Audra.Livergood@noaa.gov
URL: http://www.noaa.gov/
Wildlife Research Team, Inc.
http://www.wildlife-research-team.org/matheson.html
Primary Contact
Organizational Contact