The Restoration Resource Center is an interactive platform for knowledge exchange and learning in the field of ecological restoration.
Think about the kinds of questions we ask about ecological restoration: How much are we spending on restoration? What method works best to fix this problem? Is restoration successful at meeting project goals? Where are projects happening? What resources are there focused on this topic? What are other people doing in this same situation?
Ecological restoration is a young field that depends on knowledge gained through experience to advance the field. Yet, knowledge and advancements are often held in silos of individual practitioners, organizations, reports, community presentations, conferences, and scientific publications. Even at a local scale it can be difficult to understand where projects are happening, what their goals are, or whether projects are successful; at the national or global scale, this becomes impossible. 
In 2017, SER launched the Restoration Resource Center to overcome knowledge silos and serve as a principle clearinghouse for information sharing on ecological restoration. Through its searchable databases, the RRC provides practitioners, researchers, educators, students, policy makers, and the public with access to resources, publications, webinars, projects, conference presentations, and information on leaders in the restoration field.
---
RESOURCES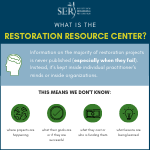 INFOGRAPHIC
Infographic explaining the the Restoration Resource Center.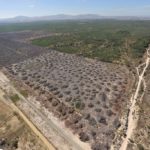 RESTORATION STORIES
Conversations with the practitioners and researchers behind featured projects. 
---
Through three main databases – Projects, Resources, and the Restoration Directory – the RRC allows anyone, anywhere to find and share information on restoration projects, conference presentations, resources, restoration-focused academic programs, certified restoration practitioners, and environmental restoration leaders in private and public industries. While SER continuously adds content and expands functionality of the RRC, ultimately the database relies of submissions by the restoration community and reflects the information and content that they find most useful.
WE NEED YOUR HELP!
The RRC is ultimately a user-driven tool, and its value in providing insight into effective restoration practices, directions for new research, and other trends in the field depends on the active engagement of our users. If you are involved with a restoration project, please take some time to fill out our project submission form and share your experiences with other readers. Whether the project was a resounding success or a spectacular failure, a landscape-scale effort, or a small undertaking, others will benefit from learning how it was implemented and hearing what worked and what didn't!
We are also actively expanding our collection of resources and publications. If you are aware of a resource we should have in the database, please let take a moment to add it.
Learn how to submit and search for projects and resources with this video tutorial!
Thank you to our RRC Project Database sponsor:

What if I see an error? Projects are submitted by practitioners involved in specific projects – SER does not edit or verify the information submitted. If you see an error, please email john.salisbury@ser.org to let us know. 


Warning: Undefined array key "ssba_bar_buttons" in /home/forge/ser-rrc.org/wp-content/plugins/simple-share-buttons-adder/php/class-buttons.php on line 598

Warning: Undefined array key "ssba_bar_buttons" in /home/forge/ser-rrc.org/wp-content/plugins/simple-share-buttons-adder/php/class-buttons.php on line 598

Warning: Undefined array key "ssba_bar_buttons" in /home/forge/ser-rrc.org/wp-content/plugins/simple-share-buttons-adder/php/class-buttons.php on line 598

Warning: Undefined array key "ssba_bar_buttons" in /home/forge/ser-rrc.org/wp-content/plugins/simple-share-buttons-adder/php/class-buttons.php on line 598