SER provides an online library of presentations from SER world conferences. Access to the library is complimentary to SER members as a benefit – non-members may purchase access to videos in bundles of five. Conference videos are included in the Restoration Resource Center's Resource Database; you can either perform a search within just the conference library or identify presentations as one of many resources during your search.
CONTENT
Videos included in the library show PowerPoint presentations including the audio of the presentations. Currently, videos in the library are from the general sessions at SER2021 and SER2019; videos are approximately 12 -15-minutes long. SER intends that other conferences will be added to this library in the future. The library only includes presentations from speakers who gave permission for inclusion, therefore not everything from the conference is available in this library. Keynote talks from the conferences are available as an open access resource on the RRC and can be freely viewed by anyone.
ACCESS
SER members are granted access to videos as part of their membership. To access videos, you will need the username and password associated with your SER account (the same information you use to log in on the main SER website). When you open a video resource on the RRC, you will be asked to enter this information before you can watch the video. If you need help with your account information, please email membership@ser.org.
Non-members will need to visit the SER store to purchase access to videos as a bundle of five. Once you make your purchase, you will be able to watch presentations by entering either the email address you used during the purchase or the confirmation code you received with your purchase receipt from SER. You will always be able to return and re-watch a video once you have accessed it. Visit this page if you are interested in learning more about becoming a member and the many additional benefits of SER membership.
SEARCHES
There are several ways to search the conference library in the Resource Database. If you want to limit your search to only SER conference videos, you can select Conference Presentation from the Resource Type under Filters. After selecting the Resource Type, you can add additional filters using Keyword, Title, and Author.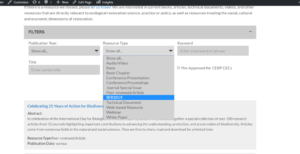 If you want to identify conference videos during a search across all resource types, look for Conference Presentation or the conference name (e.g., SER2021) in the "Resource Type" line of the resource information.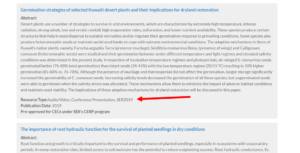 TROUBLESHOOTING
• Audio quality: Audio quality is based on the recording of the presentation and is out of the control of SER. While the majority of presentations have high-quality audio, in some cases it may be difficult to hear the presenters due to how close they stood to the microphone.
• Forgot SER login information or my login isn't working: If you are having an issue with your SER membership information, please contact membership@ser.org.
• Can't access videos: If you purchased access to videos and can't access them, please email john.salisbury@ser.org for assistance.